Mission Statement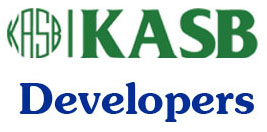 KASB Developers is a leading player in the Real Estate and Construction sectors and committed to changing the skyline of Pakistan without compromising on quality.
About us
KASB Developers has modernized the business aspect in real estate by envisaging a new era in Residential and Commercial Complexes in Pakistan. We execute our work with exceptional expertise in modern architecture. With immaculate integration between man & machine and our in-depth understanding of soil, stone, steel, design and construction equipment, we have changed the way buildings are built. And in the process, we are building the new future.
Values
Our second unit is involved in general contracting and:
Architecture & Planning
Project Management
Construction Management
Marketing
Project Development
KASB Developer's Project Development Department transforms the:
"dreams"
"wishes"
and "needs"
of our clients into reality. From ideas to construction on turnkey basis with the added value of a professional general contractor involved in:
Selection of land, definition or requirements, choice of methods
Feasibility Studies
Conceptual Designing
Selection of associated specialists
Pre-engineering
Budget estimations
Contract negotiations
Contract implementation
Design & Build
The success of KASB Developers lies in the innovations based on imagination, advanced designing and ingenious construction methods. Our experience, expertise, research and knowledge are combined together as powerful tools in the designing, building and development projects that we undertake.
In Engineering Development, our main area of work is:
Design and optimization of the work
Construction methods and techniques
Work planning
Global knowledge transfer via Knowledge Management
Careers
KASB Developers is a renowned company, managed by highly motivated and creative professionals. KASB Developers is therefore, desirous of hearing from talented and dynamic individuals seeking challenging careers in an environment that encourages individualism and appreciatively rewards their efforts.
Please send your resume to: career@kasb.net