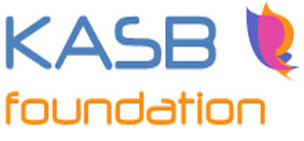 KASB Foundation, a non-profit organisation, strives to address social welfare issues through the unwavering commitment of monetary contributions and voluntary work of its employees and sponsors. Besides running its own programs, KASB Foundation also gives grants to other charities and partners in Pakistan so as to achieve maximum impact with the funds that are at its disposal. The criteria for disbursement of our services are based on the updated research exercises that we undertake to identify the prevalent social needs and gaps.
Our Foundation bears most of the support core costs without which charities can not function properly and its decision making procedures are based through simplified method of applications processing and monitoring system.
The Foundation has a history of offering support to those most in need in a number or areas that include Health, Self-Support Programs, Education, Community, Sports and the Environment. The Foundation encourages its partners to also be actively engaged in similar fields so that by sharing experiences with us and learning, we also identify to save valuable resources by avoiding duplication of services so as to achieve maximum outcome for beneficiaries.
By Almighty Allah's Grace, KASB Foundation has given grants in excess of Rs. 20 million to more than 30 institutions and projects in 2009. Our Foundation's interest and concern for solving social issues has led us to be actively involved in exchange of views and ideas with clients, media, competitors, regulators, government representatives and international bodies. We are proud to run KASB Foundation where we are challenged everyday to help change our country's social and economic fabric. We feel even prouder when our opinions are given high value and weight for changing policies related to a healthier and better society with good governance. KASB Foundation also appreciates invitations by the government, civil society and organizations to participate and debate on subjects that concern the economic well being of Pakistan.
Our Foundation recognizes that our youth are the future of our country and as such, we also actively sponsor sports and cultural activities that help in the development of our younger generation. We had launched the KASB Premier Football League Tournament in 2003 and have continued to be its leading sponsor. Today this tournament has become an annual feature on the nation's calendar and gained the highest level of popularity amongst the football lovers of the country.